In 2010, a good friend and I decided to attempt the ultimate paddle around Lake Tahoe as a fundraiser. On a crisp, calm morning, we launched our kayaks from the coarse sandy beach of Camp Richardson; the plan was to continuously paddle around the famous alpine lake in one long adventure. After 21 hours that included navigating choppy waters and cold darkness, we had officially circumnavigated Lake Tahoe's immense 75-mile shoreline, finishing the excursion nearly a full day after we started.
Without a doubt, this is the hard way to kayak Lake Tahoe. Fortunately, the Lake Tahoe Water Trailmakes it much easier to circumnavigate the jewel of the Sierra.
Whether you're out to tackle the lake's 75 miles of shoreline in one shot, or you would prefer to spread it out over several trips, Lake Tahoe's waters require some simple planning to make your adventure smooth sailing (or paddling, as the case may be). Here, some helpful tips and resources for a successful and memorable kayak journey around Lake Tahoe.
Breaking It Up Into Segments
For many those of us who have to manage the weekday work grind, taking the time necessary to paddle Tahoe's circumference might not always be possible. Just like any long-distance thru hike, the Lake Tahoe Water Trail is just as well done through a series of segments. Intrepid day-paddlers can start checking these segments off their list.
South
The eight-mile paddle from Nevada Beach to Baldwin Beach traverses clockwise across Tahoe's bustling South Shore beaches as well as some of the largest meadows and marshes in the region. Keep an eye on the sky as you paddle, and you may spot the soaring wings of bald eagles and ospreys as they cruise the shallow marshes looking for fish.
West
The west shore boasts some of the most clear and calm waters on Lake Tahoe. As winds come over the Sierra crest, they tend to miss the west shore before touching down mid-lake. This 19-mile segment (22 miles including Emerald Bay) is best done broken in half. Day one might take your boat eight miles from Baldwin Beach to Meeks Bay, then from Meeks Bay to Commons Beach in Tahoe City for an 11-mile second day.
North
Dotted with alcoves of soft sand beaches and numerous pit stops for lakeside refreshments in Carnelian Bay and Tahoe Vista, the north shore can easily add an element of entertainment and socializing to any kayaking journey. The 15-mile paddle runs from Commons Beach in Tahoe City to Sand Harbor. It's recommended to simply cut straight across Crystal Bay and skip Incline Village because the abundance of private land does not allow for any place to take out your kayak.
East
Known for its world-renowned shoreline dotted with massive boulders reflecting in the calm waters of Lake Tahoe, the east shore offers up the most scenic paddling of the trip. East shore paddles are best done in the morning to avoid chronic afternoon winds. Break your paddle into two days with a 13-mile paddle from Sand Harbor to Cave Rock, then a six-mile paddle from Cave Rock to Nevada Beach to complete your circuit around Lake Tahoe.
An Epic, All-in-One-Go Way to Kayak Lake Tahoe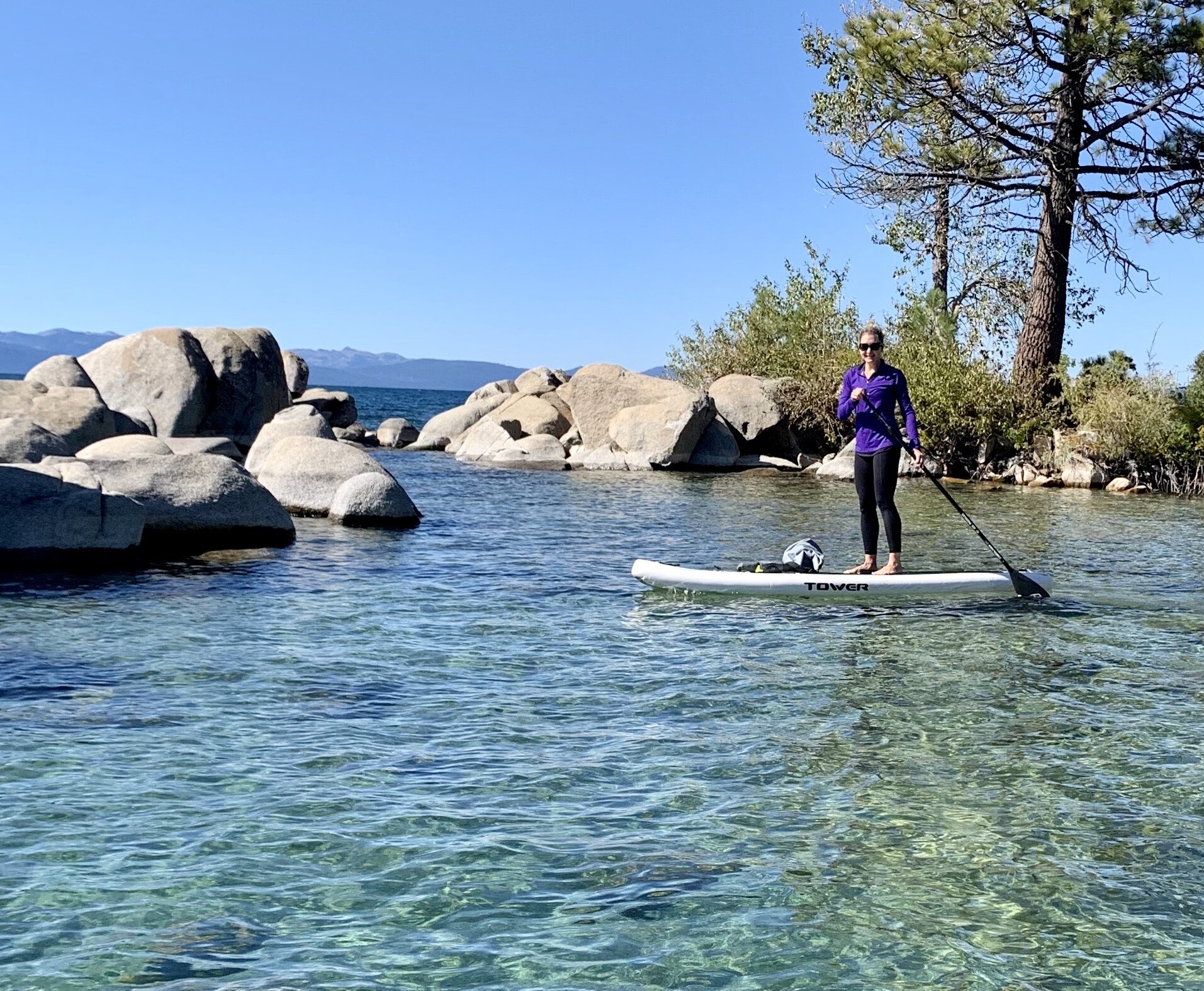 Tahoe's 75-mile shoreline can be paddled in one shot by camping and staying in shoreline lodging along the way. However, the abundance of private property on Tahoe's shoreline means that your overnight destinations need to be carefully planned. Check out these sweet overnight spots as you paddle clockwise around Lake Tahoe.
Emerald Bay Boat-In Campground : Nestled among towering jeffrey pines on the shoreline of iconic Emerald Bay, this boat-only campground is a perfect stopover along Tahoe's southwest shoreline. Plan your trip early and book these $35 sites well in advance on the Reserve America website.
Kaspian Recreation Area : Located just a short jaunt across the street from the shoreline of Lake Tahoe, this $20 campground on the northwest shore offers scenic respite after a long day on the water. If you have the energy, stretch your legs with a hike to the top of nearby Eagle Rock for a panoramic view of Tahoe.
Lake Forest Campground : This first come, first served campground on Tahoe's north shore lies just blocks from the lake next to Tahoe's Coast Guard station. A resupply is possible just a short paddle away in Tahoe City.
Nevada Beach Campground : Located directly on the beach of Tahoe's southeast shore, this is easily one of the most scenic and sought after campgrounds in the Tahoe area. Book your stay here well in advance for an awesome evening of relaxation on the sandy beach.
Lake Tahoe Water Trail Lodge to Lodge Network : Due to a scarcity of public camping on Tahoe's north and east shorelines, the fine folks at the Lake Tahoe Water Trail Association have been working hard to build their Lodge to Lodge Network for paddlers to enjoy luxurious nights in a warm bed. Reward your hard efforts of paddling the shoreline with a stay in one of the network partner lodges.
Protect While You Play
Protect the waters of Lake Tahoe from the threat of aquatic invasive species while you paddle. Join the Tahoe Keepersself-inspection program for non-motorized watercraft to make sure your boat is free of invasive species. Also consider taking the next step and becoming a trained Eyes on the Lake volunteer through Keep Tahoe Blue. You'll learn how to identify and report the aquatic invasive species you might see during your paddle around Lake Tahoe.