Where to take a break close to home and walk away with a sense of achievement.
"I need a holiday." Four little words that signify a man has reached the end of this tether. Scraped the bottom of his energy barrel. Had enough of whatever it is that has been slowly tapping away at his positive mental state.
And when those words fall from your lips, one thing is for certain – it's time to take your own advice and find yourself something incredible to look forward to.
But what? A European beach break? A long-haul flight to a distant land? A weekend trip a new city? Yeah, you could do any of those things. But let us throw another option into the hat: one of these British and Irish activity holidays that'll not only have you returning home well rested, but carrying a great sense of achievement, too.
We've compiled a shortlist of our favourites to tempt you to do something different with your getaway, including horse riding in the New Forest, shark spotting in Scotland, wild cooking in Cornwall and more. So give yourself a break and achieve something great on your next close-to-home holiday.
Sea Kayak With Scottish Wildlife
Puffins – easily a top 20 animal. Seals – top 30. Dolphins – probably top ten. You'll have the chance to see all of these and more by jumping in a kayak and heading out to the islands of Craigleith and Lamb in the sea around North Berwick. You'll also explore hidden beaches and pass under Tantallon Castle during the three-hour session with local AirBnB host George. £50pp, airbnb.com/experiences
Explore Dartmoor In The Dark
"Standing over Hugo, and plucking at his throat, there stood a foul thing, a great, black beast, shaped like a hound, yet larger than any hound that ever mortal eye has rested upon" – The Hound Of The Baskervilles_, Sir Arthur Conan Doyle_
There is a chance that walking around Dartmoor National Park at night will put you at the mercy of a cursed hell-hound, but you will also have the chance to see the brilliance of a starry night free from the light pollution of towns and cities. You're still thinking about the hound, aren't you? Well, fear not – you won't be alone if you stay at Lee Byre B&B and sign up to join the guided walk. And if you remember the book – SPOILERS – Sherlock Holmes discovered that the hound was just a dog covered in glowing paint anyway. Guided walk £30pp, leebyre.com
Salmon Fishing in Ireland
As well as tall tales of the one that got away, reminiscing with a leathery old river fisherman will always, always involve a heart-dropping story about "the good old days", when rivers were thick with migrating salmon literally leaping onto your Willie Gunn or Stoat's Tail fly. And although those days are long gone, the excitement of hearing your reel screaming and seeing your rod tip bending certainly has not. The luxurious castle hotel Ballynahinch, which boasts exclusive fishing rights in 450 acres of stunning Irish countryside overlooked by the rolling Twelve Bens mountain range, is an absolute must for anyone looking for that special fishy rush. Tutorials start at a very reasonable €160 (around £140), so don't be too put off if you can't tell your grilse from your sea trout just yet. ballynahinch-castle.com
Coracle Rowing In Pembrokeshire
Sure, you could experience the lake at luxury activity retreat Bluestone from the comfort of a kayak, but it's a bit safe don't you think? A bit done? Coracle rowing, on the other hand, is so little known we're going to have to explain it. Essentially, it's paddling around in a large round barrel solo. These historic vessels were used by ye olde Welsh fishermen, and while it's not the most comfortable ride, you'll really feel a sense of achievement when you master it. And the relaxing posh accommodation and spa waiting for you on dry land will more than make up for your sore backside. bluestonewales.com
Stand-Up Paddleboarding In Cornwall
Not only does it give an incredible vantage point from which to see the great British coastline but stand-up paddle boarding, the much-hyped surf-kayak crossover, is also an intense wesup.co.uk
Open-Water Swimming Around Scilly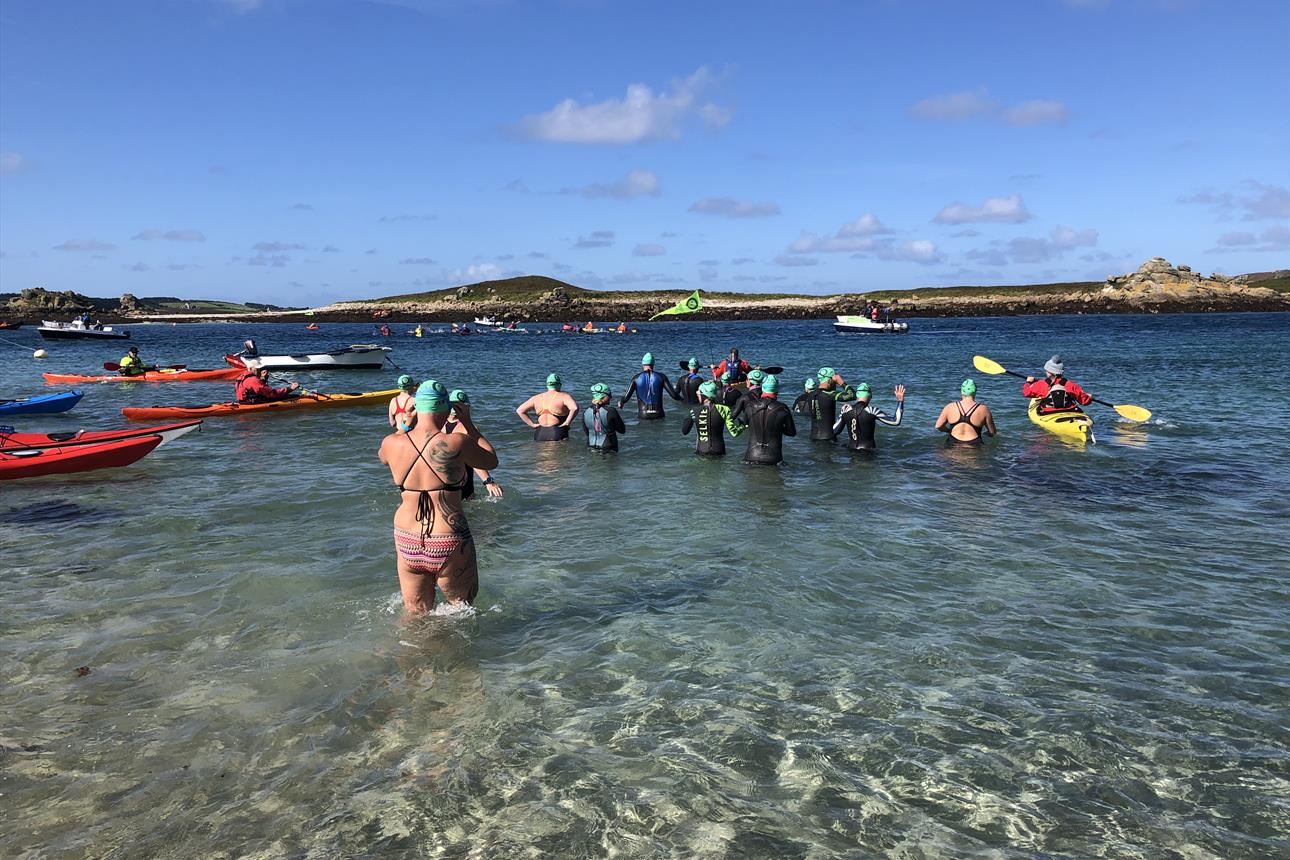 Popping over to the Scilly Isles for a weekend? Make sure you've got Adventure Scilly saved in your browser favourites. From wild swimming to trail running, this firm has got you covered, and will prove to you that a trip to the little spit of land beyond Penzance is more than just a watercolour painter's relaxing dream destination. adventurescilly.co.uk
Shark Spotting in Scotland
Finally, Shark Week is no longer something that only our transatlantic brothers and sisters can enjoy. In the cold dark waters off Scotland lurks the enormous yet graceful basking shark – the second biggest fish in the entire ocean and a sea beast that Basking Shark Scotland is totally obsessed with tracking down for you. BSS is now taking bookings for seven-day sea tours in 2018, which'll have you staying in self-catered accommodation on the Isle of Coll and enjoying six days of boat trips to see these 10-metre monsters in all their glory. There are even tanks and airfills for the braver among you who fancy jumping in alongside the swimming behemoths. baskingsharkscotland.co.uk
Wild Cooking In Cornwall
Had your fill of the exposed brick walls, eye-strainingly low lighting, trendy waiters with Dickensian moustaches and coughing up a small mortgage for a plate of foam in London's restaurant landscape? Now's the time to cut the guff and remind ourselves that there was a time before bottomless brunches and tiny sharing plates. A time when we'd find our food not on a Deliveroo menu, but hiding in the great outdoors. Fat Hen's foraging and wild cooking breaks allow you to seek out nature's most delicious edibles in the wilds of West Cornwall, guided by a pro ecologist, before cooking up a feast in its bespoke cookery school and gorging on the goodness at fireside farmhouse tables. fathen.org
Walking In The Cotswolds
Walking, eh? You're pretty good at it. Plenty of hours under your belt. Semi-pro, if anything. But is there anywhere better in the UK for showing off your stepping skills than the majestic, poetic surrounds of the Cotswolds? No sir, there is not. Cotswold Walks offers a huge range of walking tours, from guided to self-guided, from luxury short breaks to tailor-made ones. These guys are the leading walking and hiking specialists in the area, so you know they'll safely guide you up, down and out of the hills, and to the pub for a well-earned local pint at the end of the day. cotswoldwalks.com
Clay Pigeon Shooting In Suffolk
If you're yet to throw some lead up into the sky or enjoy the scent of smoke wafting from your gun as you eject your empty cartridges from their barrels, then you haven't lived. Clay shooting is the at-times-infuriating, at-times-deeply-satisfying but consistently exciting pastime that isn't just for craggy-faced tweed-wearing farmer types. For proof get on down to High Lodge, a top-drawer destination set up by seven-time world champion John Bidwell. It's set in the heart of tranquil Suffolk woodland and comprises of luxury lodges, hot tubs, fishing, golf, a restaurant and a fantastic clay shooting set-up. And with "have-a-go" starter lessons for £35, you'll be peppering those little discs in no time. highlodge.co.uk
Horse Riding in the New Forest
You've been watching Westworld, haven't you? You've been thinking, "Gee, I sure could do with a slice of that hard-living gun-slinging saloon-frequenting lifestyle right about now" as you robotically board the 6.15 slow train into work again, haven't you? Well saddle up, partner, because this is your first step to unleashing your inner cowboy. Admittedly far gentler than the blood-soaked narrative of an HBO sci-fi drama, Burley Villa's quiet riding getaway on the edge of Hampshire's New Forest is a great break for anyone looking to jump aboard a trusty four-legged steed. And with B&B and ride prices starting at just £99 per person, this is the place to be if you want to ride hard and fast (or at least pretend you are) like the sinister Man In Black. And who doesn't want that, huh? burleyvilla.co.uk